Car, bus, train, plane, shuttle… here is all the information to come to the show.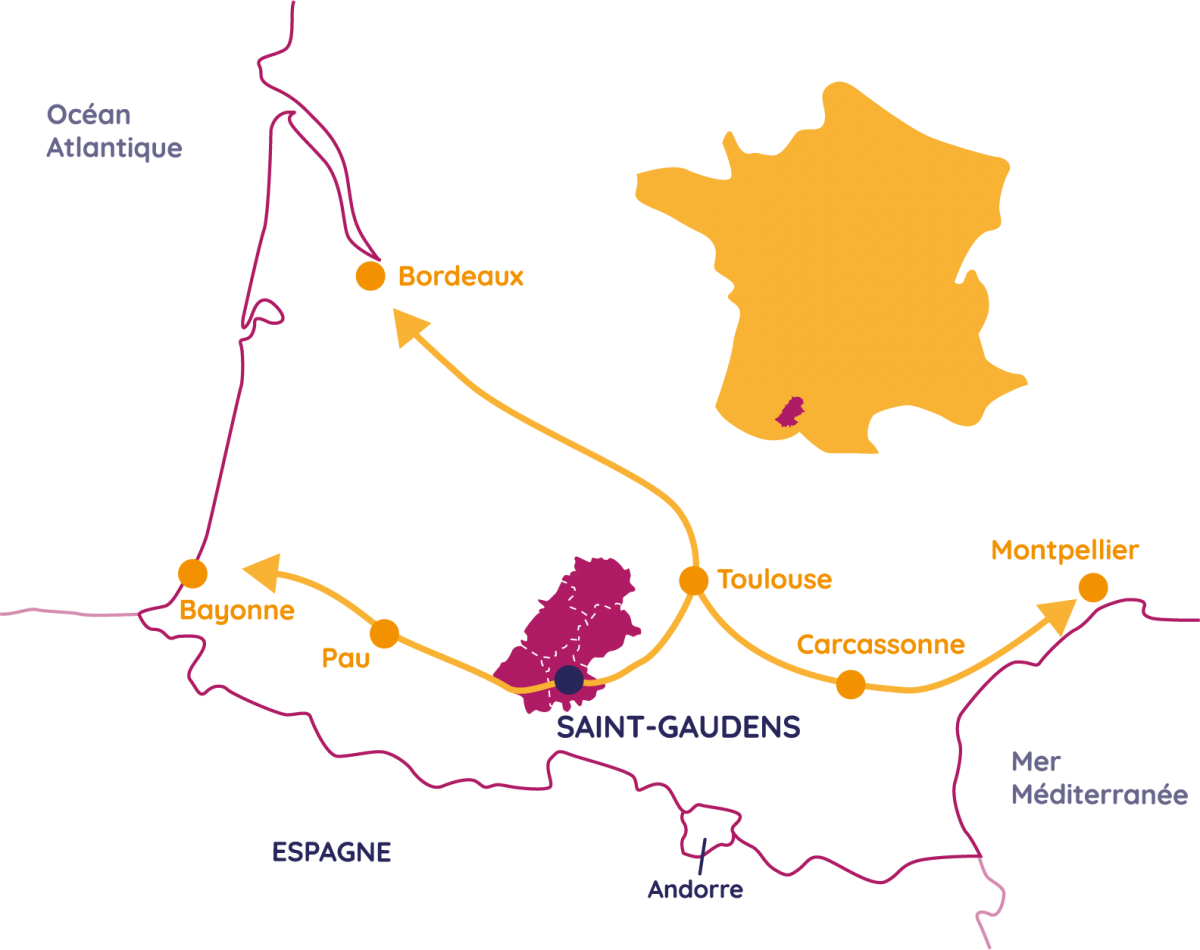 Come by car
A 645 motorway (La Pyrénéenne) Exit n ° 17 for Montrejeau
Exit n ° 18 for Saint-Gaudens
Coming by train
EVASIO ': 1 €
Discover the Occitanie region by liO TER for € 1!
Saint-Gaudens SNCF station
Montréjeau SNCF station
Phone: 36 35
Daily direct connections Toulouse - Saint-Gaudens - Montréjeau. www.sncf.com
Travel inexpensively with SNCF and its TER weekends at 1 € throughout Occitania, from June to September.
Coming by plane
Toulouse Blagnac Airport - 97 Km | 60 mins
Tarbes Lourdes Pyrénées Airport - 74 Km | 50 mins
Pau Pyrénées Airport - 114 Km | 90 mins
Come by bus
Buses at 2 € - More Info
Our coaches liO are also concerned: the maximum price of the ticket increases to 2 € (for any origin and destination) from the 1er July. This cap is an anticipated step in the tariff harmonization across Occitania, carried out until 2022. It means price cuts in Ariège, Haute-Garonne, Gard and Gers, and Castres- journeys. Valras-Plage or even Auch-Toulouse for € 2.
Travel in Europe : short journeys, the long-distance coach trip, or the night bus. www.flixbus.fr
Propose the routes of all operators coaches in France, train journeys and carpooling. www.sobus.fr
Arc en Ciel departmental network
Line 42 Isle-en-Dodon - Boulogne - Saint-Gaudens
Line 65 Toulouse - Boulogne-sur-Gesse via Samatan and L'Isle-en-Dodon
Getting around with the shuttle lines
In order to easily get to the show during the 4 days, shuttle lines connecting the usual stopping points in the Saint-Gaudens sector (Landes ZAC, SNCF train station, Pégot car park, town center, etc.) at its front doors will be available. These trips will be free and regular during the extended opening hours to the general public.
Mobility at the show
The show will be accessible to all, for this reason horse-drawn shuttles adapted for people with reduced mobility will be made available. free of charge and will make a stop at each of the poles so that you can discover them.